Park Inn Pulkovskaya Hotel * * * *
Symposium venue. Address: Pobedy Sq. 1
Located in about 8 km from the airports, this modern 4 star hotel is a convenient place to stay as it is the symposium venue.
Just 10 km south of the city center, it stands a mere 100 meters away from Moskovsky Prospekt, which leads straight to the heart of St Petersburg. From Pulkovskaya Hotel it is easy to reach the most beautiful city suburbs - Pushkin and Pavlovsk - and airport as well. With 840 rooms the Pulkovskaya Hotel has three highly acclaimed restaurants, a bakery, a brewery and a lobby bar . There is a Wireless Internet access in lobby area, restaurants and conference center. A metro station "Moskovskaya" is within an easy walking distance and there is good access to public transportation. All guestrooms are equipped with telephone, refrigerator, satellite TV, separate hanging closet, work desk, guard and fire alarm system, door peephole and electronic door locks.
Single rooms
Double rooms

Room 18 sq.m., entrance hall, bathroom
Central air conditioning system
Queen-size bed
Coffee table, armchair
Bathroom amenities
Hairdryer on request
Safe on request

Room 18.5 sq.m., entrance hall, bathroom
Central air conditioning system
Twin beds
Coffee table, armchairs
Bathroom amenities
Hairdryer on request
Safe on request

price: 5200 RUR
price: 5800 RUR
Notice for the participants with kids: an extra bed in your room can be ordered for 1500 RUR per night, breakfast incl.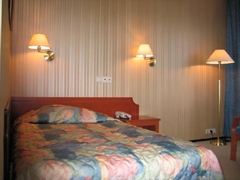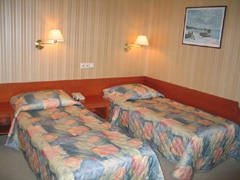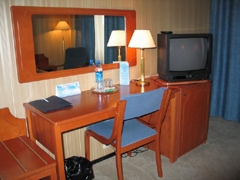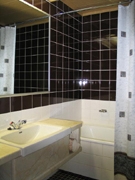 The prices above are given per night per room, including breakfast buffet and taxes.
The prices are fixed in Russian Roubles (RUR), the current exchange rate you will be able to see when selecting accommodation options for reservation at your personal ONLINE Registration page. Advance payment and cancellation terms and conditions are listed there also..
The prices are discounted for the ISSW-27 participants and their companions. The discount period is from 18th till 25th of July.
IMPORTANT! Deadline for hotel accommodation booking is June 1, 2009.
The whole period of your stay in the hotel should be fully paid in advance before June 7, 2009 in order to have guaranteed accommodation.
The hotel reservation will be confirmed as soon as the 100% payment has been received.
If you would like to cancel your booking, you should send the cancellation by e-mail Sw2009@onlinereg.ru
For cancellations received before June 15, 2009 the payment will be refunded (minus banking costs) after the Symposium.
In case of cancellations received on and after June 15, 2009, the cost of one night stay and the amount of banking costs will be charged out of the amount of your payment. The rest amount of payment will be reimbursed after the Symposium.

Monomax Ltd. Company is the official Symposium Service Agency and will help participants with registration, accommodation and other matters for the 27-th International Symposium on Shock Waves.
Monomax Ltd. is a member of the International Congress & Convention Association (ICCA).
In case of any problems, questions, etc. connected with hotels, please contact:
Manager: Ekaterina Akimova
Tel.: +7 (812) 335-2055 ext. 452
Fax: +7 (812) 335 2039
Sw2009@onlinereg.ru