The conference will take place at the "Rossiya" Hotel
Adress: 11 Chernyshevsky sq, Saint Petersburg





From the hotel "Rossiya" you can quickly reach any place in Saint Petersburg:





200 meters (5 min. walk) to the metro station "Park Pobedy";

20 minutes by taxi or metro to Nevsky Prospekt (city center);

20 minutes to the airport "Pulkovo" and train stations;


Accomodation


For hotel reservation, transfer and visa support please visit our partners website http://onlinereg.ru/Nano2014

Deadline for hotel reservation - May 19, 2014


View Larger Map
Useful Information

Travel
Saint Petersburg is easy to reach via many daily convenient flight connections from main European and American cities. St. Petersburg International Airport "Pulkovo-2" is 17 km away from the centre of the city.One can also come to St. Petersburg from Europe travelling by bus, car, ship or train.

Saint Petersburg has a fast and comfortable Metro which is open from 05:30-06:00 in the morning till midnight. Metro one-way fare is paid with a token, which costs 28 RUR, or about 0.60 EUR regardless of the distance and number of stops.

Buses, trolleybuses and trams run from 05.30 a.m. till midnight. There are also taxi-buses and taxies. Public ground transport fares are accepted only in cash and are: municipal 25 RUR; commercial somewhat higher. Tickets should be bought from the conductor or the driver in express buses and taxi-buses. Each ticket is for a single route only.
Time
St. Petersburg is situated in the Moscow standard time zone (MST), which differs from Greenwich Mean Time (GMT).
MST = GMT + 3 hrs.
Currency exchange
The national Russian currency is ruble. All payments for goods and services throughout Russia must be done in rubles, or by major credit cards.
Foreign currency can be exchanged in banks or currency exchange offices at the airport, hotels or in the city. Exchange rates are always posted.
Electricity
220 V plugs are standard continental European type. British and North-American appliances need an adapter.
Emergency

It is easier to use the special emergency number for mobile-phone users - 112 - which will connect you with the emergency number of your service provider.

If your operator does not provide this service or if your roaming agreement does not include it, you will be given the correct number to dial the city emergency services.
City
Saint Petersburg is a former capital of imperial Russia and the home of its tzars. The city has many splendid architectural treasures, theatres and art museums and of course the world famous Hermitage.

Saint Petersburg is the second largest Russian city with a population of almost five million people. It is the largest northern city on the planet.

Saint Petersburg is often called the Venice of the North, because it lies on 44 islands which are divided by a web of 86 rivers and canals.

Over 100 palaces of the Russian nobility and a great many cathedrals and unique churches built by the greatest architects of the time still remain in Saint Petersburg.

Most of them are open to the public now. Saint Petersburg is famous for its "white nights" - a period when there is as much light during night time as during the day time and many bridges are raised, so that numerous strolling romantics can enjoy the sight of ships passing down the Neva river city waterway all night long.

The city has recently undergone an extensive renovation in celebration of its 300th anniversary in 2003.

More than 80 museums and 40 theatres of St. Petersburg ensure that art, ballet, music, and theatre lovers will find the metropolis an endless source of cultural enjoyment.

Climate

Overview. To put it in just one word, Saint Petersburg weather is variable. In this Northern city the weather is the topmost source of surprises.

That is why even in the heat of summer many wise locals still carry their umbrellas with them. It does not rain all the time, but you never know when it will. It might get quite windy too. At any rate, weather forecasts on TV and radio always get the highest ratings.

St. Petersburg's climate is mild compared to that of the more inland areas of Russia. The city is on the Baltic Sea, which makes winters relatively mild, but summers are not particularly hot either. It is humid all year round.

Summer. The average June-July temperature is 20-25 C.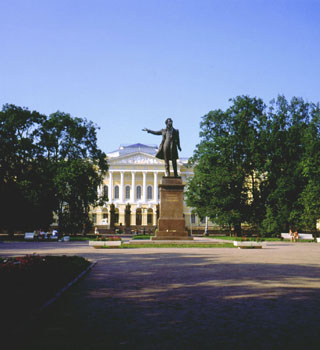 I love thee, Peter's proud creation,
Thy princely stateliness of line,
The regal Neva coursing, patient,
Twixt sober walls of massive stone;
The iron Lacework of thy fences,
Thy wistful, moonless lustrous nights,
Dusk-clothed but limpid... Oft it chances
That in my chamber without a light
I write or sit a book perusing
Whilst luminous the streets lie dozing
Beyond, great, empty blocks... Up higher,
Against sky, the Admiralty spire
Is clearly etched...
The darkness driving
From off the havens, twilight hastens
To welcome twilight, scarcely giving
Night half an hour...
A. Pushkin. "Bronze Horseman"
Translated by Irina Zheleznova
Welcome to Saint Petersburg!