After arriving to Pulkovo international airport you can reach Ioffe Institute, Sputnik and Orbita hotels by public transport or taxi.
By public transport
You can reach the Moskovskaya metro station (nearest to the airport) by bus No. 39 or 39Э or "marshrutka" (routed shared taxi, minibus) No. K-39 (see Pulkovo airport site for details). In regular buses (39 or 39Э) you can pay by credit card using PayPass technology. Please use big terminal located on the vertical handrail with the 'PayPass' label. In "marshrutka" you have to pay about 50 roubles in cash inside the car. We recommend to use regular buses instead of a "marshrutka".
Moskovskaya is located on the metro line 2 (blue). To reach the Politekhnicheskaya and Ploschad Muzhestva you have to change to line 1 (red) at Tekhnologichesky Institut, just cross the platform (see metro map for details).
The fare for a single trip does not depend on the distance and is 45 roubles. The St.Petersburg metro uses a system of tokens ("zheton") the size of larger coins. These can be bought in cash or credit card at the box office operating at each station. For some travellers it will be feasible to get Podorozhnik card, which stores credit and you pay as you go/travel. It is valid for all types of public transport. There are also cards, valid only in metro, for a number of rides, for example, a card for 10 trips, which is valid for 7 days. You can also pass using credit card with PayPass technology (only the leftmost and the rightmost gates support PayPass).
The southern entrance (nearest to the airport) to Moskovskaya metro station is open form 5:35 till 0:40. The latest train to the city centre departs at 0:11.
By taxi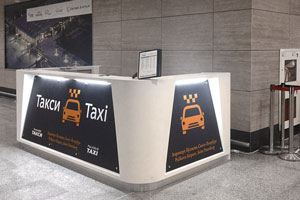 You can order a taxi at the airport at the special counter, see Pulkovo airport site. A taxi to the city center will cost 1050 roubles (about 15 euro) and 1350 roubles (about 18 euro) to the conference venue and Orbita and Sputnik hotels. You can pay by credit card at the Pulkovo Taxi counter. We strongly recommend that you order a taxi onbly at the airport counter. An unoffical taxi is unsafe and not cheaper than an official Pulkovo taxi.
You can also use Gett and Yandex taxi services. Regular Uber doesn't work in Russia, there is UberRussia instead.
Feel free to contact the LOC on detailed information.
Map of the venue