Social Program
Social Program includes:
Welcome Party
It will be held at the Hotel «Holiday Inn St. Petersburg Moskovskye Vorota» on Monday (September 9) at 7 p.m.
Workshop excursion
Workshop participants are able to choose one of two alternative excursions to St. Petersburg suburbs (by bus) on Thursday afternoon (September 12) at 2 p.m. from the Workshop venue:
1. To Peterhof (Petrodvorets)
Peterhof is one of the most fascinating residences of Russian tsars since Peter the Great's time (early 18th century). It is located on the southern coast of the Gulf of Finland within 30 km from the Workshop Venue. This town often referred to as «the Russian Versaille» is famous for its palaces and parks with hundreds of fountains.
The guided tour includes Lower Park with the most famous fountains (Grand Cascade with Sampson tearing apart the mouth of the lion (on the top photo), Chess Cascade, Monplaisir Garden with its Trick Fountains), as well as the inside visit to Monplaisir Palace (on the down photo). During your trip you will also see the Gulf of Finland. It could be a bit windier than in the downtown of St.Petersburg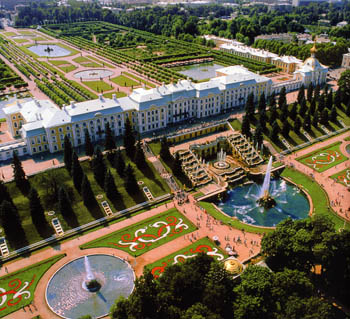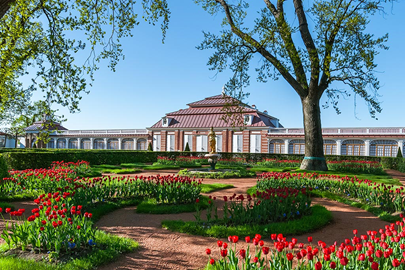 2. To Pavlovsk
Pavlovsk lies in 32 km to south from St.Petersburg. It is one of the former royal residences and dates from the late 18th century. Pavlovsk palace and park were built for the Empress Catherine the Great's son, Paul, and called by his name. The best Russian architects of the Classicism period contributed to its design. The beautiful park of Pavlovsk covers an area of more than 600 hectares (1,500 acres), making it one of the largest landscape parks in Europe.
The guided tour will include the inside visit to the Palace and the trip around Park ensemble. You will visit the Palace (on the up photo) with State and Private Rooms, then the trip will continue in the Park (on the down photo).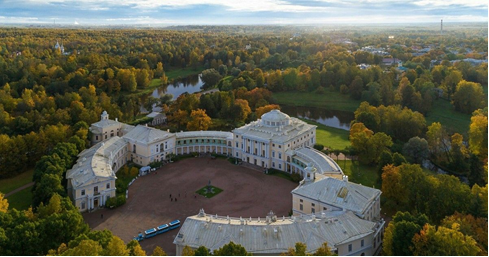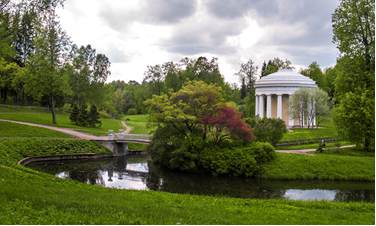 Both excursions

start at the Hotel «Holiday Inn St. Petersburg Moskovskye Vorota» - Workshop Venue - and will take approximately 5 hours.
Please inform the Organizing Committee of your choice by e-mail.
After the excursions, all the Participants will be brought to the Workshop dinner location in the south part of the city. After the dinner, the same buses will brought participants to the Hotel «Holiday Inn St. Petersburg Moskovskye Vorota».
Workshop dinner
on Wednesday evening (September 12) approximately at 7:30 p.m. in the banquet hall "Amulet".  Address: Prosp. Narodnogo opolchenia, 6. About 600 m by foot from Subway station "Leninskii Prospekt".
Social Program Assistance by the E. Moltchanova's Tourist Agency.